myths, legends, leprechauns
and other things irish

OUR MONTHLY CONTEST AT THE PALACE HAS STARTED. DON'T BE LEFT OUT. PLAY TO WIN TERRIFIC PRIZES. LET US BE YOUR FIRST CONTEST!
As a proud person of Irish/Scottish American heritage, I thought I'd include a little about Ireland in my pages. I'm not really sure when my ancestors came to America, our best guess is sometime during the Potato Famine. My family being very poor lost any and all of it's records and my grandparents all passed away before I was 3 so there was no way for me to begin to research our origins, and no family oral history, so I've just decided that all of Ireland will be my ancestral home. No conflicts between the Green or the Orange in my life, so there are no preordained prejudices in my background.
I've never had the opportunity to visit Ireland, although it is one of the places I intend to go before I die, but I've read so much about it I almost feel as if it's a part of me.
Ireland is a small, but very beautiful country. It has somehow managed to stay fairly unindustrialized and the countryside and waters are practically unpolluted. The countrysides of both the North and the South remain picturesque, unfortunately some of the urban areas have been partially destroyed by the struggle for independence in the northern areas.
Ireland is one of the last countries that continues to follow their ancient Celtic origins.
Signs in Ireland are written in the traditional Irish language (Gaelach) and in English, and there are communities where Irish and not English is the main spoken language.
The music of Ireland is lilting and beautiful to listen to. As with any ancient culture, the myth and legends of the country have been told so often that it is difficult to determine which are just stories and which are based in fact.
Ireland- land of the leprechauns, the banshees, the Druids and so much more! Explore some of the sites I've found for you and learn more about this wonderful culture.

An Irish Blessing (taught to me by my dad)

May the road rise to meet you,
May the wind be always at your back,
May the sun shine warm upon your face,
The rains fall soft upon your fields and,
Until we meet again,
May God hold you in the palm of His hand.

Irish History
The National Archives of Ireland- not access to the archives themselves, but you will find here whether the information you're looking for is available in the archives.
Irish History on the Web- loads of information and links available here for your reading or researching pleasure.
A to Z of Ancient Ireland- a dictionary of sorts that will give you meaning as well as the history behind many things Irish. Fascinating reading!
The Celtic Wheel of the Year- "The Celts measured the Solar year on a wheel, circle or spiral, all of which symbolize creation and the constant movement of the universe ­ growth and development.

The Claddagh- there are many stories about the origin of this Irish symbol. The consensus seems to be that the hands represent friendship, the heart represents love, and the crown represents fidelity or loyalty. Designed in the late 1600's by Richard Joyce and treasured by all who own or wear them. The way to correctly wear the ring is:
1--On the right hand, crown in heart out, the wearer is free as the birds in the sky. If you want her, go a courtin'.
2--On the right hand, crown out heart in, the lass is spoken for, so lay off.
3--On the left hand, place of choice, heart in crown out, she is happily married for evermore.
If by some chance you don't know what a claddagh ring looks like, here is a picture that shows good details.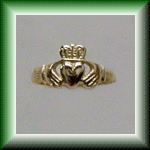 Irish Curses-
My favorite: May you be afflicted with the itch and have no nails to scratch with!
Irish Proverbs-
My favorite: Neither give cherries to pigs nor advice to a fool.
Irish Toasts-
My favorite: (It shows you my strange sense of logic!)
Heres to you and yours and to mine and ours and if mine and ours ever come across you and yours I hope you and yours will do as much for mine and ours as mine and ours have done for you and yours.
Irish Medical Lore:
You'll have to read these yourself to judge them. They are in no way meant to be taken as serious medical treatments.
General links to Ireland
Ireland Now- If you can't find it on this site or a link from this site, it probably isn't really Irish.


My favorite Irish author
Maeve Binchy
Maeve Binchy was born in a small village outside of Dublin, Ireland on May 28, 1940 to Maureen Blackmore, a nurse, and William T. Binchy, a lawyer. She spent her
childhood in the small village of Dalkey, an experience she draws on today when creating the rural villages usually at the heart of her novels. After receiving her B.A. in 1960 from University College in Dublin, she began working as a teacher in a Jewish school. When she left the school several years later, her parents sent her on a trip to Israel as a gift. She liked it there so much that she found work on a kibbutz and stayed for several months, writing weekly letters home; long missives describing daily life in an Israel constantly on the brink of war. Her father was so moved by her letters that he sold one to the Irish Times for a sum of £18. Binchy, who had only been making £16 a week at the school, thought she had truly "arrived."
Her first novel "Light a Penny Candle" was the one that got me hooked. I love the style of her writing and her descriptions of the small towns of Ireland. Her characters are so easy to relate to and seem so real, it's really only incidental that they are Irish. For me, her novels are the best of both worlds: a little taste of Ireland and some really wonderful story telling. You'll find that you totally lose yourself in her Ireland and become an unseen observer in the lives of her characters.

My favorite Binchy novels
1. Light a Penny Candle- I read this book years ago and still remember the story of Elizabeth and Aisling. Throughout this story you will laugh and cry and even get angry at the way they both let themselves by used by Johnny. Not a real statement for feminism, but things were different in the 1940's. 20 years later, I keep hoping for a sequel to this book.
2. Circle of Friends- The story of Benny, a true ugly duckling. Who hasn't walked a mile in these shoes, yearning to be popular, thin and beautiful. Ms. Binchy takes us through the angst of growing up and growing strong as we "help" Benny grow up into a remarkable and self sufficient woman. The movie didn't do justice to this book.
3. The Copper Beech- A story of growing up. The good, the bad, the ups and downs. The loves and the hates everyone faces during their youth. Centers around the tree that grows outside the schoolhouse as the characters grow up. Not my favorite, but still very good. You can't read a book by Binchy and not get involved with the characters.
4. Silver Wedding- Not Binchy's best book, but well worth a read in any case. Follow the story of the Doyle family, as everyone prepares for Desmond and Deirdre's silver wedding anniversary. The characters in this story weren't as well developed as they usually are in Binchy's books even though each character's story adds to the story as all these characters come together at the anniversary party. You come away with an understanding of the reasons these characters ended up where they are, but I still felt like I wanted to know more.
5. Firefly Summer- visit the sleepy town of Mountfern and see the changes that the coming of a luxury resort bring to the town and it's inhabitants. The characters in this story are so strong that you feel that you know them and you become a part of their town and their lives. A personal favorite, I couldn't put this one down until I was finished, and yet I hated to turn the last few pages because it would all be over.
This just gives you a taste of a few of Maeve Binchy's books. You can purchase these and every other book she's written at Amazon.com. Just put Binchy in the search engine on the home page and prepare to go to Ireland with intriguing characters that are so real you'll swear you've really met them.

Feedback is always welcome. See something you liked or something that could be improved, please let me know.


Contests Work at Home CFIDS Star Trek US Navy NASCAR



Background by Cyberspace Place Backgrounds